Thermalogica Health Screening have teamed up with Medichecks, so that we can offer our clients over 1200 blood, saliva, urine and stool laboratory tests. Medichecks mission is to make state-of-the-art laboratory blood testing available to everyone. Your health is everything. Whatever your stage of life, be the best you can be with a simple, personal health check you can do at home.
They have harnessed the expertise of the UK's top pathology laboratories with the latest consumer technology to make 21stCentury blood testing a simple, easy-to-use process available for everybody. The tests are available directly to clients, complete with easy-to-visualise results and comments from qualified doctors.​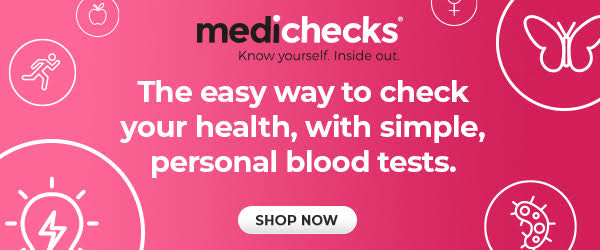 Take charge of your health with tests for hormones, vitamins, cholesterol and more.  Many tests only require a finger prick, similar to the blood sugar testing of patients with diabetes. Some tests need a venous blood sample and Medichecks can arrange this for you for an additional fee.​
The following test panels can be ordered easily and directly to your doorstep: